Ahhh, the Big E (also known as "The New England States Exposition")......an Annual event in which you pay $15 per person to get in, then pay way too much money for deeply fried foods.....it is wonderful.
I have been backsliding the last few weeks with my weight loss, so I have renewed my commitment with Weight Watchers and counting my points and am writing everything down....
It's been busy here, but fun-I have lots of new pictures and video to share!
But first, I have to post this clip from Saturday's Season opener of SNL-I thought it was SO dead on....I have probably watched this clip 20 times, and it is STILL hysterical:
Here is what happens when Mommy plays with hair gel: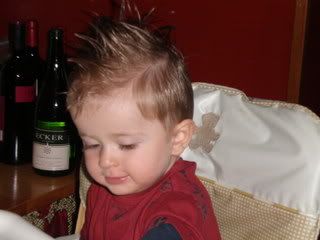 And here is some video of Kyan dancing.....I apologize if you don't like Celtic music....I was listening to it a lot last week: