Holy Crap, it was 21 degrees out today........
I've been considering sticking my head in the oven all day, not because I am suicidal, but because my cheeks are ice cold........I love all the season, including winter....I just don;t love it when it falls under the 30 degree mark and we can't afford to turn up the thermostat past 61........
Anyway, things are (as always) busy and hectic here, with the occasional dash of insanity.....
Presents for Christmas are largley dealth with, now I just have to wrap them.....and keep Kyan from UNwrapping them before Christmas......
On Saturday, I went to Blessignway for my friend Melody, who is currently very pregnant with her 4th child. We said Blessings for her and the baby and the upcoming birth, Our friend Molli gave her a footbath and massage, and we did Henna on her belly-which looked great when the Henna mud itself was on there, but did not really leave much in the way of design when it came off......
Molli putting on some finishing touches:
The finished design: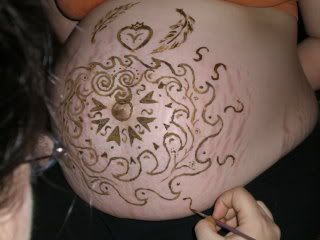 Yesterday, Jon, Kyan, Sean, Amelia, Lily, and myself took the kids to Storrowtown Village because it was FREE and they had cute little displays up and Santa (dressed in purple??)......so we put the kids in their Holiday outfits and headed out:
Kyan with Santa:
Kyan enjoying the snow: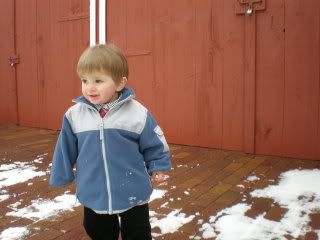 Lily Was getting cold feet!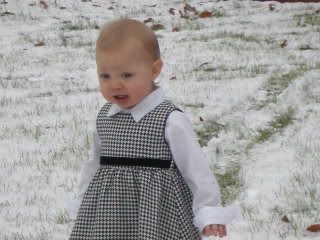 If you'd like to see better pics from the excursion, please visit my friend Amelia's sight, as she is a fa better photographer than me....You mayve to scroll down a bit...
http://lilyburke.blogspot.com/
And here are a few random Kyan pics....
Kyan with Daddy:
Kyan jumping on a chair: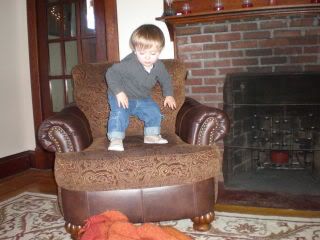 Video of Daddy making Kyan laugh (best sound in the world!):