Well, it's been a busy few months around here.....I needed to regroup and really focus on being gratful for all the good things that were already in my life, namely Kyan and Jon.
But time marches on, and we are happy to announce I am a Host Organism!! I am supporting a new life! YES, PREGNANT!!! We are officially 12 weeks along, with a due date around Feb. 12 (my birthday).....I have rented a doppler...it took 20 minutes to find the heartbeat today and a lot of patience, but we finally found the little bugger hiding under my pubic bone! :-) Because of my history of miscarriage, I have had 2 ultrasounds already, and everything has checked out thus far. We are SO EXCITED!!!
Kyan is growing and thriving: He had his 2 year well child appointment today. He is 37 1/2 inches tall and 31 lbs and 9 ounces and his head is 50cm. His language skills have really picked up-and everyhting is "Mine". He can point to and name almost all of his body parts. He says "I Love You" now (sounds like I LUB WU) and has become a pretty affectionate little man.
Kyan turned 2 on July 24 and really enjoyed his birthday. He really got into the presents concept this time-In fact, now everytime he sees a present, he thinks it is his to open! He got some clothes, some trucks, a tractor, some puzzles, a fire truck and Thomas the Tank Engine toys, which are now a total obesession....Everything is "Thomas this" and "Thomas that" and "SODOR!" (as in The Island of Sodor).
Anyway, I will conclude with some pictures of Kyan's birthday and my pregnant belly (as well as that of my best friend, Amelia, who is pregnant too-8 weeks ahead of me and expecting TWINS!!!)
Kyan and his cake: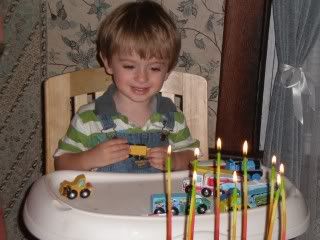 Kyan with Grampie:
Amelia at 16.5 weeks, and me at 9 weeks:
Amelia at 18 weeks, and me at 11 weeks: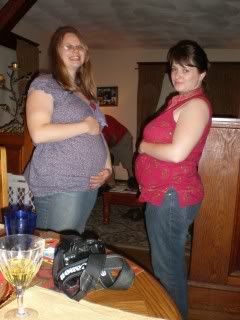 I look forwarding to jumping back into blogging and keeping you updated on out little corner of Massachusetts!