This past weekend we went out Pumpkin picking...it was a GORGEOUS day and highly enjoyable. Kyan didn;t get that much out of the excursion, but Mom and Dad certainly enjoyed themselves!
Looking for the perfect pumpkin....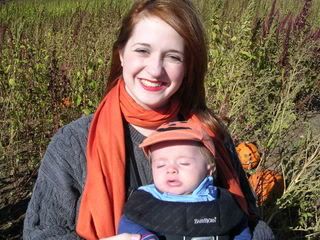 Kyan weatring his "Jack-O-Lantern" baseball cap (Thanks, Aunt Sarah!)
And here's one of us NOT in Jon's shadow :-)
Kyan and Daddy wearing their hats backwards :-)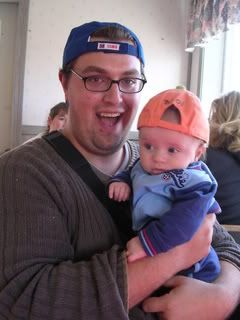 Me and Ky holding hands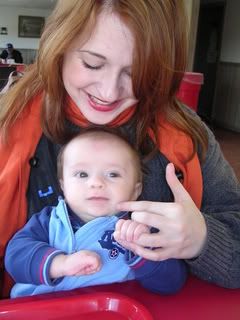 The Family Photo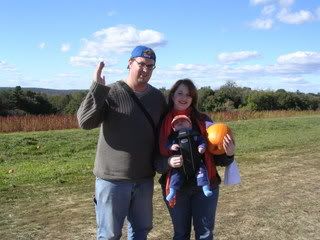 And here are a couple random ones....
Ky in his Giant's Jersey from Me-Mom and Pop-Pop...(Don't worry, he has an Eagles one, too-even if they do SUCK this season)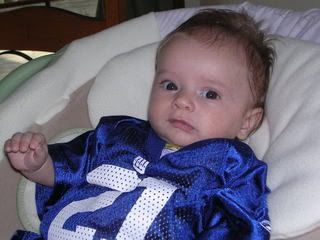 Ky in the Oliver Twist type cap I bought him..he is not a big fan in this picture...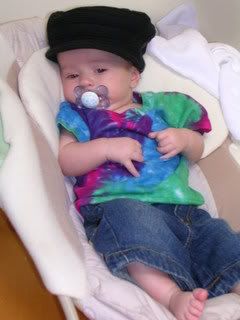 In Adult Land, Jon and I will be going out on an actual DATE this weekend (we have not been out without the baby since he was born nearly 3 months ago)...Grammy Pammy and GrandPop are watching Kyan while Jon and I go to dinner and a movie-WOOHOO-I won't even have to stop eating my dinner to nurse or give him a bottle-And we won't have to draw straws to see who gets to do the next diaper change! Oh, the luxury! Last time we went to go see a movie, Ky was about 2.5 weeks old, and we went to a matinee of the "The Simpson's Movie", and I go to see about 3/4 of it before the baby started fussing, so I walked out of the theater. So this time, I will get to see a WHOLE movie....YAY!!
In the world of baby milestones, Kyan is now holding his head up really well-we try to make sure to give him belly time each day. He is smiling and laughing a lot, particularly after a really good poop. He also has developed a really good grasp-cause' he has ripped several fistfuls of my hair out.
So that is what is new in Beckyland.....