I am in video upload HELL right now......There is a bottle of bourbon shoved in my mouth right now to muffle the frustrated screams that have escaped from my mouth......Fear not, I will figure it out.....Until them, some pictures of the bride will have to suffice (none of me, as I was obviously taking the photos).
The wedding went well-It was UNGODLY hot and humid, which is why I am so glad I got my hair done in an updo......It would be kind of off putting if the wedding officiant had limp, wet hair at the ceremony ("Who's that greasy, sweaty person standing next to the bride and groom?"). It started to rain a bit when were were on our way to the ceremony, but it stopped, and the rain held off long enough to perform the ceremony, which was just over 10 minutes long.
After the ceremony, the bridal party waited around outside for over an HOUR while the photogrpaher took pictures of the both the bride and groom's sides of the family. Luckily, we were all comped a drink during this time, so that eased the pain a BIT.
Eventually, dinner was served (food was actually decent), and the dancing commenced. Since Jon was shelling out $12 at a shot if we BOTH wanted a drink, it's needless to say I was not blitzed enough to make a total ass out of myself on the dance floor. I did make a partial ass out of myself because, hey, that's what I do, but that's pretty typical, so no surprises there.
Jon and I departed a bit after 11pm-that's pretty late for us these days, and after arriving home, Jon realized that he still had the bride's suitcase for the honeymoon in the back seat....so he drove all the way back down to Enfield to deliver before Chad and Marcie left.
As the officiant, all that was left for me to do was to fill out a section of the marriage license and put it in the mail to the Town Clerk's office, which I did this morning, via certified mail.
On to the pics: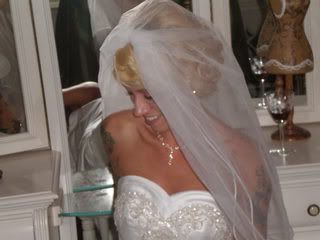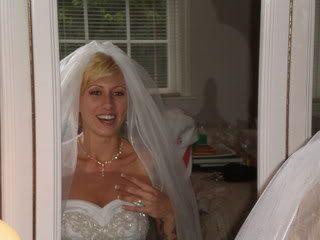 Excited and ready to go!
In the limo:
Cutting the cake: