Dear Kyan-
Today, you are 1 year old.
On this day last year, You came into this world after 6.5 hours of labor, weighing 9 lbs, 2 oz., and 21 inches long, and looked me straight in the eye. It was the happiest day of my life then. Since you were born, EVERY day has been the happiest day of my life.
At your Doctors appointment this morning, you were 25 lbs and 31 1/2 inches long.....nearly 16 lbs and 10 1/2 inches bigger than this time last year.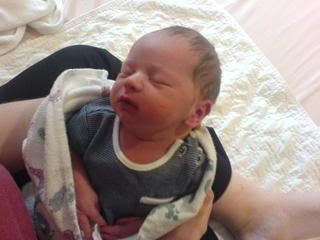 I have watched your little personality emerge-You are inquisitve, funny, and always looking to get into trouble.
You are my little buddy-game for pretty much anything and everything, prepared to take it all in.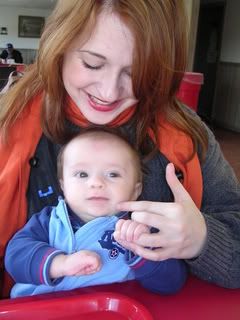 Kyan, there really aren't words for what I am feeling.....I am just so grateful to be your Mother. You have taught me so much, this past year. There are so many books that talk about how to help your baby learn and what they should be taught, but I think they have it all wrong. I've learned more from you than you could possibly ever learn from me. I love being a Mother so much-You've even made me appreciate my own Mother more.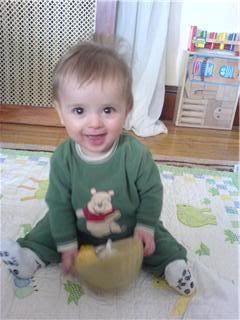 I know from you what it means to truly appreicate the small things...That suprise crumb in your high chair, a twist tie on the floor, watching the dog run around the yard...All of these things are exciting and awesome to you, and you have in turn, made them awesome for me again too.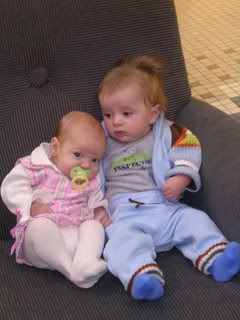 You have changed to much......from a small baby with crazy hair to a little boy who just got his first REALLY Big Boy hair cut. Like other babies your age, you are starting to test your limits-and I am trying hard to let you explore while setting enough limits to keep you safe.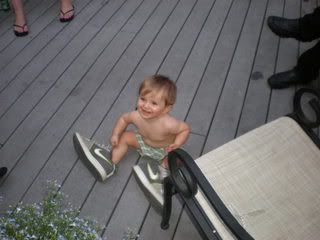 I intended for this to be a much longer post, filled with stories from yor first year, but the best thing I can think to say is: Happy Birthday, Kyan. I love you more than anything in the world. You are my sweet baby boy, and although sometimes I wish I could stop time from marching on and freeze frame you exactly the way you are now, I know the future holds even better things for you. I am just lucky that I will get to watch it happen.
Every day, I think it's impossible that I could love you any more, but every day, my heart grows ten times bigger just from being around you. You have changed me in so many ways......Both your Dad and I think we are the luckiest parents in the world.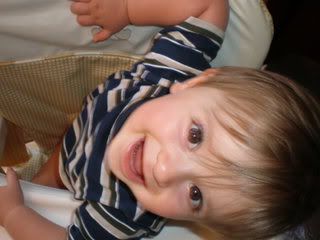 Love,
Mama